| | | |
| --- | --- | --- |
| | ultimo aggiornamento 15 settembre 2008 | |
Il modulo Bluetooth realizzato come molte altre dalla RoboTech srl ha le dimensioni di 29x29 mm permette al robot di comunicare senza fili con dispositivi quali telefoni cellulari, palmari o personal computer compatibili.
Il 'cuore' dei modulo e un, chip LMX9830A compatibile con le specifiche dette 'Bluetooth 1.2 Cene Specification'.
Il modulo é costituito da un dispositivo Bluetooth di classe 2, ovvero di classe di potenza intermedia.
E' bene ricordare, però, che l'effettiva distanza coperta e la qualità dei collegamento dipendono da molti fattori, tra cui la presenza di ostacoli o di disturbi elettromagnetici e il dispositivo utilizzato come controparte nella connessione.
Nella pratica, un collegamento tra due dispositivi 'classe 2' in campo aperto può avvenire anche a una distanza di una trentina di metri.
Caratteristiche
Le maggiori particolarità del modulo si possono così riassumere:
Compatibile con le specifiche del protocollo Bluetooth 2.0 e 1.X

Distanza di funzionamenti sino a 30m

Basso consumo

supporto dei comandi e dei dati Uart con un baud-rate di 921.6K

supporta i profili GAP, SDAP, SPP

suppoota l'Adaptive Frequency Hoping (AFH) e la coesistenza con 802.11

antenna integrata

dimensioni ridotte

compatibilità con le normative RoHS
La funzione dei pin di connessione:
Il modulo è dotato di un connettore per il collegamento di 6 pin le cui funzioni sono visibili sotto

Descrizione pin del connettore

Numero pin
Nome pin

Tipo
(Input/Output)

Descrizione
1
VCC
I
Ingresso alimentazione DC ( 3 VDSC tipico)
2
RX
I
Terminale RX seriale (livello TTL)
3
TX
O
Terminale TX seriale (livello TTL)
4
RTS
O
Terminale RTS Request To Send) seriale (attivo basso)
5
CTS
I
Terminale CTS (Clear To Send) seriale (attivo basso)
6
GND
-
Terminale di massa
Condizioni di lavoro:
Il modulo può essere alimentato con una tensione compresa tra 2,5 e 3,3V è consigliabile e opportuno però alimentarlo con una tensione di 3V.
La temperatura può oscillare tra 0 e 45 °C ma la migliore resa si ottiene a circa 25 °C.
Download del materiale della versione commerciale della scheda


443 KB
Documento RBT_001_DS con il datasheet del modulo

843 KB
Documento RBT_001_Manual con il manuale nella versione 1.2 in lingua inglese che fornisce una dettagliata visione del modulo. Viene inoltre spiegato l'utilizzo del modulo sia a basso che alto livello.

194 KB
Il file easybt_examples.zip contenente esempi di utilizzzo con il PIC 16F877 sia in Basic che in C.

194 KB
Il file SimplyBlueCommander.zip contenete il programma di test e prova Simply Blue Commander" che permette il collaudo delle applicazioni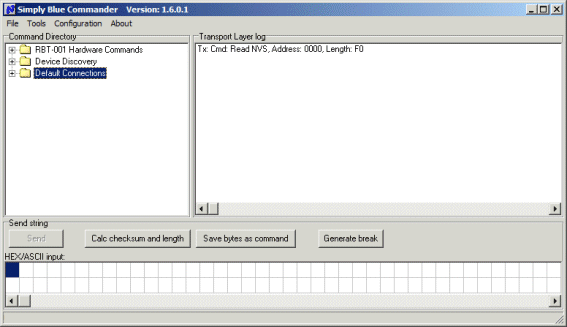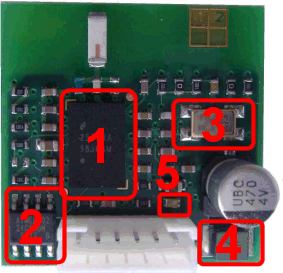 | | | | | |
| --- | --- | --- | --- | --- |
| 1 | 2 | 3 | 4 | 5 |
| Processore LMX9830 Bluetooth™ Serial Port Module | Memoria tipo 24C64B 2-Wire Serial EEPROM 64K (8192 x 8) | Quarzo | Bobina | Led SMT |
| | | | | |
| LMX9830 | 24C64B | | | |
| | | | | |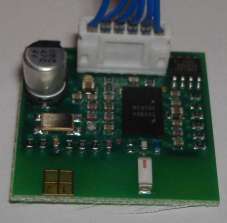 Scheda bluetooth collegata al modulo motherboard

A confronto la scheda bluetooth prototipo e quella definitiva
FEATURES
Compliant with the Bluetooth 2.0 Core Specification
Better than -80 dBm input sensitivity
Class 2 operation
Low power consumption:
High integration:
– Implemented in 0.18 µm CMOS technology
– RF includes antenna filter and switch on-chip
DIGITAL HARDWARE
Baseband and Link Management processors
CompactRISC Core
Embedded ROM and Patch RAM memory
UART Command/Data Port:
– Support for up to 921.6k baud rate
Auxiliary Host Interface Ports:
– Link Status
– Transceiver Status (Tx or Rx)
– Three General Purpose I/Os, available through the API
– Alternative IO functions:
– Link Status
– Transport layer activity
Advanced Power Management (APM) features
– Advanced power management functions
Advanced Audio Interface for external PCM codec
ACCESS.bus and SPI/Microwire for interfacing with external non-volatile memory
FIRMWARE
Complete Bluetooth Stack including:
– Baseband and Link Manager
– L2CAP, RFCOMM, SDP
– Profiles:
– GAP
– SDAP
– SPP
Additional Profile support on Host. e.g:
– Dial Up Networking (DUN)
– Facsimile Profile (FAX)
– File Transfer Protocol (FTP)
– Object Push Profile (OPP)
– Synchronization Profile (SYNC)
– Headset (HSP)
– Handsfree Profile (HFP)
– Basic Imaging Profile (BIP)
– Basic Printing Profile (BPP)
On-chip application including:
– Default connections
– Command Interface:
– Link setup and configuration (also Multipoint)
– Configuration of the module
– Service database modifications
– UART Transparent mode
– Optimized cable replacement
– Automatic transparent mode
– Event filter
DIGITAL SMART RADIO
Accepts external clock or crystal input:
– 13 MHz Typical
– Supports 10 - 20 MHz
– Secondary 32.768 kHz oscillator for low-power
modes
– 20 ppm cumulative clock error required for Bluetooth
Synthesizer:
– Integrated VCO
– Provides all clocking for radio and baseband functions
Antenna Port (50 Ohms nominal impedance):
– Embedded front-end filter for enhanced out of band
performance
Integrated transmit/receive switch (full duplex operation
via antenna port)
Better than -80 dBm input sensitivity
0 dBm typical output power
PHYSICAL
Compact size - 6.1 mm x 9.1 mm x 1.2 mm
Complete system interface provided in Ball Grid Array on underside for surface mount assembly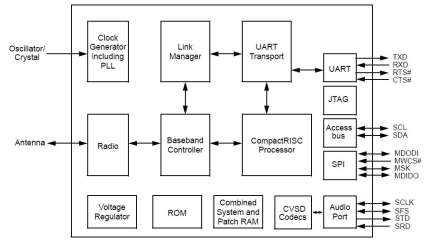 Elenco revisioni
15/09/2008
Inserito link alla rivista Fare Eletronica
25/08/2008
Inserito informazioni sul modulo commerciale
18/07/2006
Emissione preliminare